The latest monthly survey of UK construction purchasing managers shows the commercial sector as the best-performing category, ahead of house-building and civil engineering. Construction firms recorded the least widespread delays for almost 18 months. Survey respondents often noted that optimism about the roll back of pandemic restrictions had led to greater spending on commercial construction projects.
Across the industry as a whole, activity in the UK construction sector increased for the 12th consecutive month in January and growth picked up since December, according to the latest PMI® data compiled by IHS Markit and CIPS. There were also encouraging signs for the near-term outlook as new orders rose at the fastest pace since August 2021 and input buying was the strongest for six months.
Cost inflation also softened and although supplier lead times continued to lengthen – staff shortages and a lack of haulage availability hindered deliveries – the peak phase of supply chain difficulties appears to have passed. The latest downturn in vendor performance was the smallest since September 2020.
The headline seasonally adjusted IHS Markit/CIPS UK Construction PMI Total Activity Index registered At 56.3 in January, up from 54.3 in December. (50.0 represents no-change.)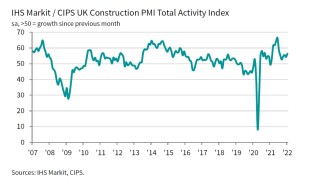 Commercial work was by far the best-performing category (57.6), with growth accelerating to a six-month high. Civil engineering returned to growth in January (53.2), although the rebound was softer than seen in other parts of the construction sector. House-building activity meanwhile increased at its slowest pace for four months (54.3).
January data shows a robust and accelerated rise in new work received by construction companies – the fastest since August 2021. Strong pipelines of new work encouraged additional staff hiring in January.
Input buying picked up at the start of 2022, reflecting new project starts and stock building efforts. Despite another rise in demand for construction products and materials, the latest survey pointed to a turnaround in supply pressures. Although rises in raw material prices, energy costs and transportation bills continued to push up business expenses, the overall rate of inflation in January eased to its lowest for 10 months.
Finally, the latest survey indicated that construction companies remained highly upbeat about the business outlook. More than half of the survey panel (53%) forecast a rise in output during the year ahead, while only 5% predict a decline. Optimism was the strongest since May 2021 and largely reflected increasing tender opportunities and expectations of a recovery for the UK economy in 2022.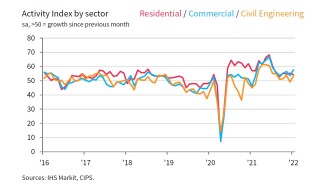 Tim Moore, director at IHS Markit, which compiles the survey, said: "UK construction companies started the year on a strong footing as business activity picked up speed and new orders expanded to the greatest extent since last August. The composition of growth has become more tilted towards commercial projects as house building lost momentum and civil engineering remained subdued.
"Commercial construction activity benefited from fewer concerns about the Omicron variant and strong business optimism about recovery prospects over the course of 2022.
"Residential work increased at one of the slowest rates since spring 2020, which is an early sign that cost of living concerns and rising interest rates could start to dampen the post-lockdown surge in spending.
"Higher energy, transport and raw material bills led to across the board increases in input prices during January, but fewer supply issues helped ease the overall rate of cost inflation to its lowest since March 2021."
Duncan Brock, group director at the Chartered Institute of Procurement & Supply, said: "Builders enjoyed their best month since July, bouncing back from December's doldrums as opportunities unfurled in terms of new orders, job creation and optimism offering a strong start to 2022.
"Pipelines of commercial work snapped back into action as businesses were more confident in their investment decisions and the sector came out on top with the strongest gap in output growth compared to the residential sector in almost six years. Housebuilders became January's laggards raising concerns that higher interest rates and consumer inflation could feed into a further slowdown in the coming months as affordability rates are weakened.
"There was some light at the end of the tunnel where supply chains showed signs of improvement and the best delivery times since September 2020. However, the rapid upturn in activity is putting more pressure on suppliers still in recovery while there are shortages in skilled labour and a lack of reliable transportation adding to their woes. 34% of supply chain managers said their materials were taking longer to arrive and as a result purchasing activity escalated in an effort to beat price hikes and shortages."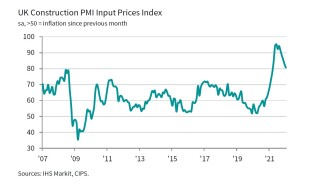 Mike Hedges, a director of building contractor Beard, said: "After a turbulent 2021, January gave plenty of reasons for optimism in the construction sector. Growth picked up with new orders and activity levels both increasing. This is in turn generating job opportunities and the sector should look for diverse candidates to fill these roles. After a few months of caution, commercial work led the growth as a positive economic outlook gave clients the confidence to green light new projects.
 "While lead times are still longer than usual and cost inflation continues place project budgets under pressure, supply chain issues are easing and the strong pipeline of work is building confidence for construction firms. With activity ramping up savvy contractors will need to work closely with supply chains to overcome delays, whilst supporting prompt payment practices. As the economy continues to recover, there is optimism that 2022 could be a sustained year of growth in the industry."
However, Steve Plaskitt, a partner at accountancy network MHA, warned that there was trouble just around the corner with the end of the red diesel rebate on 1st April. "Inflation will continue to be the biggest challenge for the sector," he said. "Ongoing shortages of materials and labour, increased energy costs and rising wages in addition to the forthcoming Health and Social Care Levy, will all adversely impact profits. In the housing market rising inflation will also lead to higher house prices. These challenges will be exacerbated by the ban on red diesel for power generation linked to commercial purposes, which will affect generators, cranes and site vehicles from 1 April 2022. This ban is a major source of confusion and concern for the sector…. construction firms will end up paying more in fuel duty, which will create a major headache for companies already struggling with rising costs."
Got a story? Email news@theconstructionindex.co.uk